Don't worry about chartering the boat, planning the route, or the other numerous time consuming details for your next sailing vacation. Let Advantage Boating take care of the details and let our experienced flotilla leader aboard the "lead" boat help guide you along. You do the sailing while your guide leads you to the next breath-taking destination of the day. You may put your own full crew together consisting of 5 - 8 people or simply reserve a cabin as a couple or a single.
Join us for a special sailing vacation as we cruise along the Croatian coastline: September 19 - October 4, 2014
Download our 2014 Information Package to Croatia!
Where are we going?
To beautiful and breath-taking Croatia to to sail and explore the central coastline.
Air access to this breath-taking destination can easily be arranged with flights from Ottawa or Toronto to Split, Croatia. With transfers from Split, we are able to deliver you to Sunsail's base at Agana where you will begin your vacation of a lifetime. The adventure starts with a good night's sleep aboard the boats. The following morning we complete our provisioning, attend a chart briefing and do a boat orientation.
Where are we sailing?
Our cruising playground will range northward to the southern tip of Dugi Otok and southward to the islands of Vis and Hvar. We will take a side trip into the Krka Estuary and National Park to visit the beautiful Krka Waterfalls, during our stop at Skradin. Our sailing adventure will take us through the Kornati Archipelago and National Park (www.kornati.hr) which is the most concentrated group of islands in the Mediterranean consisting of 152 islands, islets and rocks.
What else can we do?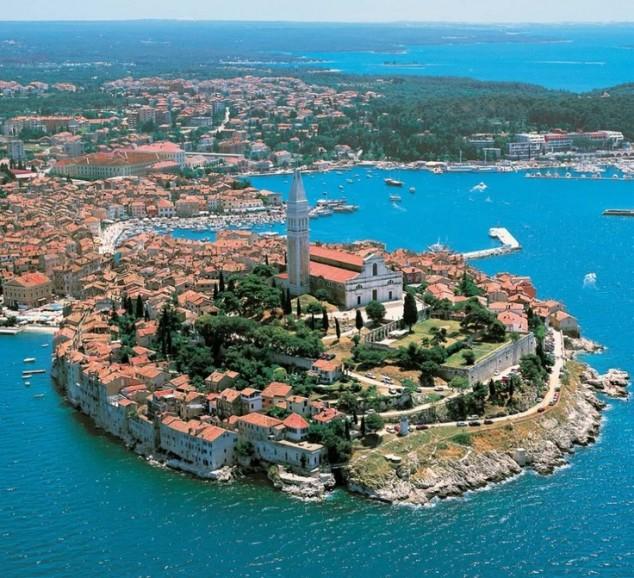 Croatian Island.
As we travel up and down exploring the coastline, we will be able to enjoy a mix of anchoring under the stars in secluded bays, the comforts and facilities of full service government owned marinas or mooring off the town sea wall.
RECOMMENDATION For crew we recommend the Sail Canada Basic Learn-to-Cruise Standard or equivalent and VHF Certificate. For skippers you will need your Sail Canada Intermediate Learn-to-Cruise Standard or equivalent, Coastal Navigation Standard and VHF Certificate.
BOAT PACKAGES
Aboard a Jeanneau 41 (3 couples or 2 couples and 1 single, 2 heads, 5 - 6 people)
Aboard a Jeanneau 47 (4 couples or 3 couples and 1 single, 4 heads, 7 - 8 people)
FEE $2,325.00 (based on double occupancy)
FEE $2,875.00 (based on single occupancy)
Ready for a fun sailing vacation to Croatia that you will not soon forget?
Then complete the following steps:
Within the information package to Croatia, you will find an application form. Complete the application form by May 3 and send it to info@advantageboating.com or fax it to 613-721-0427. Only after we have confirmed that we have a minimum of 5 boats in the flotilla will we process your deposit of $1000.00 . Please have all of your crew do the same.
Hold off booking your flights until we have confirmed on May 3rd that we have a minimum number of 5 boats for the flotilla.
We will also be holding a "Croatia" information night at Britannia Yacht Club (upper deck) on April 28 starting at 7pm.
Sign up now and join the rest of the gang for an awesome trip!
Future Destinations...
BVI's or St. Maarten February 2015
St. Vincent & the Grenadines, February 2016
Previous Destinations...
British Virgin Islands - nine times since 2000
St. Maarten - twice since 2000
Croatia - once since 2000
Greece - once since 2000
Thailand - once since 2000