Celestial Navigation
Is your GPS fail safe? If you answered "no" to this question then this course is for you. You will learn the theory of celestial navigation required to safely navigate a vessel offshore. Topics include use of a sextant, principles of celestial navigation and the methods used to determine your position utilizing celestial sightings.
PREREQUISITE Sail Canada Coastal Navigation.
OPTIONS Wednesday evenings for 10 weeks or Home Study.
FEE $340.00 + HST (includes text and exam) - Classroom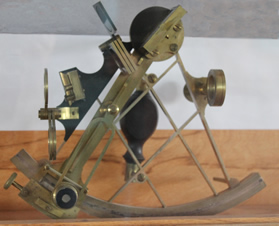 Sextant.
FEE $225.00 + HST (includes text and exam) - Home Study
OBJECTIVE To be able to demonstrate the celestial navigation theory required to safely navigate a sailing cruiser on an offshore passage. The Standard is applied practically in the Offshore Cruising Standard.
CERTIFICATION AWARDED Sail Canada Celestial Navigation Standard
Class Schedules:
OTTAWAWEEKNIGHTS 7:00 - 9:30 p.m., at Britannia Yacht Club.
| | Start | Finish | Code | Location | Status | Add to Cart |
| --- | --- | --- | --- | --- | --- | --- |
| | January 28, 2015 | March 25, 2015 | CEL3 | Class | Completed | |
| Wednesday Evenings | January 27, 2016 | March 23, 2016 | CEL1 | | Completed | |
| Wednesday Evenings | January 25, 2017 | March 22, 2017 | CEL1 | | Completed | |
| Wednesday Evenings | January 24 | March 21 | CEL1 | | Completed | |
| Wednesday Evenings | January 23, 2019 | March 20, 2019 | CEL1 | | Limited spaces remaining | |