Coastal Navigation On-line Edition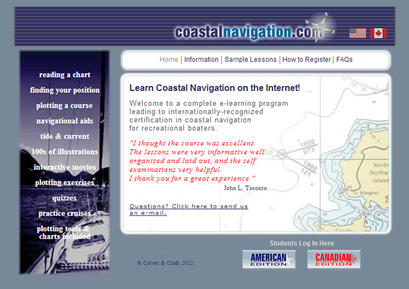 coastalnavigation.com
You will have the opportunity to apply the theory with many practical exercises that show you how to determine your position on a nautical chart and how to safely reach your intended destination. You will also learn how to take drift and leeway into account and how to use tide and current tables.
PREREQUISITE None.
FEE $170.00 + HST (includes all materials)
PARTNER FEE $100.00 + HST (fee applies to second person only)
OBJECTIVE To be able to demonstrate the navigational theory required to safely navigate a sailing cruiser in coastal or inland waters. The concepts are practically introduced in the Intermediate standard and practically tested in the Advanced standard. The standard is recommended to be completed prior to the Intermediate standard.
CERTIFICATION AWARDED Sail Canada Coastal Navigation Standard.
NEXT STEPS Sail Canada Basic Cruising, Sail Canada Basic Powerboat, Sail Canada Intermediate Cruising, Celestial Navigation
Presented in co-operation with: