Learn-to-Cruise Program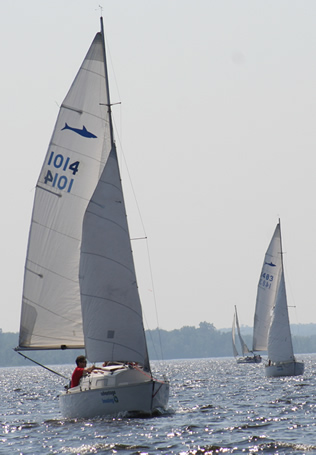 Keelboats on the Ottawa river.
The Learn-to-Cruise Levels are taught aboard 22-25 foot keelboats like the one shown here. A keelboat has a large (usually lead) fin attached to the bottom of the boat, called a keel, that does the work of keeping the boat upright.
The various courses are taught aboard boats that range in size from 22 to 40 feet in length. All boats are safe, comfortable and a pleasure to sail.
Each course has a maximum of four students. This gives each participant plenty of time in each position on the boat.
Courses available are:
Basic Cruising: Designed for first time sailors who want to learn how to sail a larger boat. This is our most popular course and is often the first course people take if they have never sailed before.
Youth Keelboat Programs: Designed for youth (aged 11-17 as of December 1/2018) who will be working toward achieving their Junior Crew (Beginner level) or Junior Skipper (Intermediate level) certification depending on age and sailing experience. Sailors will be taught aboard our 22'-24' keelboats in a fun, safe and hands-on environment.
Beyond Basic Cruising: Our Mileage Builder trips allow you to gain valuable experience while enjoying a cruising vacation. You will be exposed to day and night sailing, furthering your seamanship skills in preparation for handling of a larger cruising boat.
Intermediate Cruising: Recommended for people who are interested in owning or chartering a boat. It places emphasis on practical training while living aboard.
Advanced Cruising: A challenging course. Objectives are to act safely as skipper and crew of a sailing cruiser of 10 - 15 meters, any modern rig and inboard engine, operating within 100 miles of shore by day and night in coastal or inland water in any weather.
Instructor Training: Sail Canada certified instructors are amongst the most highly trained instructors in sport. Countries such as Bermuda, Grand Cayman, Barbados, the United States, Australia, and New Zealand have all recruited and hired Canadian instructors to run their programs. There is a high demand among Canadian sailing clubs and sailing schools for Sail Canada certified instructors. What a great way to spend the summer while passing on your passion to others!