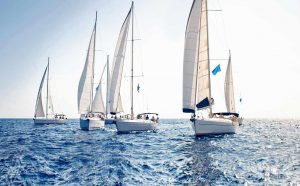 We've been hosting flotilla adventures around the world for close to 20 years! 
Don't worry about chartering the boat, assembling the crew or planning the route. Our experienced flotilla leaders will organize the trip, help you plan the provisioning and provide you with all the information you will need for your adventure.  Together with your crew, you will do the sailing while your flotilla guide leads you to the next breath-taking destination of the day.
Our boats range in size from about 40′ – 50′ (3-5 cabin) or similar type boat.  Monohull and Catamaran sailboats available.
Robert and I want to thank Doris and Ron for a great introduction to cruising.  The BVIs are so beautiful, and swimming in that clear turquoise water was a real treat.  Well planned, well executed, it was a terrific vacation.  We are definitely hooked.
~S. McKellips and R. Madill, Ottawa, February 2017
Our upcoming flotilla getaways.
1.  Croatia:  September 15-29, 2018.  Join one of our information sessions to find out more.
Croatia has the most stunning and sunniest coastlines in Europe with more than 1200 islands off this part of the Adriatic coast. Starting in Trogir, we will head north to explore the Kornati and Krka National Parks with their waterfalls
, lively ports exuding unmistakably Mediterranean character, uninhabited islands and protected coves.  You can expect superb sailing as we visit UNESCO heritage towns, snorkel in pristine waters and enjoy delicious European cuisine.  our final destination will end in the historical medieval town of Dubrovnik.  Be prepared for an unforgettable sailing adventure. 
FORMS:  2018 CROATIA Flotilla Application.  (Please fill out and submit to info@advantageboating.com):
FEE:
2018 Grenadines Flotilla Information Sheet
2018 Croatia Flotilla Information Sheet
2. Caribbean:  February 2019
Find out more about our 2019 Programs – Join our free information session:
Wednesday Aug 22, 2018, 7 PM at the Britannia Yacht Club – RSVP HERE
Wednesday Sept 5, 2018, 7 PM at the Nepean Sailing Club – RSVP HERE
APPLICATION FORMS:
2019 Caribbean Flotilla Application (coming soon)
FEE:
2019 Caribbean Flotilla Information Sheet (coming soon).
EXPERIENCE RECOMMENDATION:
As Crew – Sail Canada Basic Cruising standard or equivalent
As Skipper – Sail Canada Intermediate Cruising, VHF-ROC(M), ICC (for Croatia)
Please contact us at 613-721-8683 or toll free at 1-877-934-7245 for more information
  
Terms and Conditions
All prices are in US funds.
A deposit of 50% per person is required at the time of registration to secure your spot. The balance of the payment is due 75 days prior to departure.
Note:  Advantage Boating reserves the right to alter program content, boat sizes or types and schedule due to exigencies beyond its control. Travel portions of the package are the responsibility of a licensed travel agent to whom any inquiries will be directed. While Beneteau and Jenneau boats are the regular boats used in this program, we reserve the right to substitute suitable yachts as necessary.