Our instructors are experienced professionals who are trained and certified by Sail Canada and other recognized Worldwide boat training organizations. They are fully committed to providing you with the skills and understanding to enjoy this wonderful sport while also ensuring that your learning experience is both fun and memorable. These instructors have sailed many of the world's best cruising destinations and they will be more than happy to share their experiences with you. Some of them have also raced sailboats at the local, national and international levels. We're also very proud of the fact that in 2017, no other Sail Canada recognized sailing school in Ontario certified more people in the "Learn-to-Cruise" (keelboat) system than Advantage Boating.

Ron Schute – Founder, Basic & Intermediate Cruising & Racing
Ron Schute is the very proud owner of Ottawa based Advantage Boating. Ron formed Advantage Boating in 1992. The company has since grown into Canada's top adult sailing school, boasting thousands of graduates and a fleet of 20 vessels, with programs offered across Canada, in the Caribbean and Worldwide.
Ron's sailing career began at the age of 7 in a styrofoam sailboat called a Sunfish. At 9 years old, he graduated to a Jr. Club boat called a Cadet. They were shaped like a shoe box and plowed rather than plied the waters. Neither pretty nor quick, Ron quickly yearned for something bigger and faster. Bigger and faster he got!
At 13, Ron joined the team of Robin Hood, a beautiful 36 foot, laminated cedar racing machine. It was during a 50 miler race aboard this boat that Ron really received his sailing baptism. With strong winds at their back and moving like a freight train a diagonal gust of wind hit the boat and pushed the leeward rails deep into the water. At this point, Ron found himself hanging on to the safety rails, buried up to his armpits in foaming water and struggling to keep his hair dry!
It's been over 40 years since that memorable race and Ron continues to love everything associated with sailing and being on the water, apart from getting his hair wet. If sailing sounds interesting and you'd maybe like to get your feet wet, just a little, then get in touch with Ron. He can be reached directly at ron@advantageboating.com.  We can also lend you a Sou'wester if wet hair is a concern for you too, although we're pretty sure, that's just Ron!

Doris Parolin – Sailing School Director, Basic Cruising & Racing
While Ron Schute is the owner of the company, instructors and clients alike will affectionately tell you that it's Doris who really runs the show. On a daily basis, Doris works very hard to ensure that expectations are exceeded for both the clients and her instructor team. She is very boot's to the ground, or in our case, top siders to the deck.
Doris learned how to sail in a Laser II dinghy with her family and some very supportive and keen sailors at Ottawa's Lac Deschenes Sailing Club.  This is where her love of racing sailboats began.  It wasn't long afterwards that her family discovered racing and continued developing her passion of sailing while cruising and racing their Tanzer 26 at Nepean Sailing Club.  Since those early days Doris has raced on any boat she could step foot upon and at competitions at the Local, National and International levels.
It was at Nepean Sailing Club that Doris also first started teaching adults and youth sailing as part of "Sail Nepean" (NSC's dinghy program).  She's been involved with teaching sailing now for over 30 years.
Doris has also shared the love of sailing with her own family. When not flying the flag on behalf of Advantage Boating, she can likely be found somewhere on the Ottawa River with own family cruising and racing their C&C 27.  To learn more about Doris' passion for sailing, contact her directly at doris@advantageboating.com.

Nicholas Schute – Intermediate Cruising & Racing
Give Nicholas a boat and he will sail it.  From laser dinghies to high performance sport boats, to comfortable cruising boats to America's cup boats, Nicholas loves sailing them all!      
Nicholas is Sail Canada's youngest Intermediate Cruising instructor.  To say that sailing is in Nicholas' blood would be an understatement for he has been sailing since before he could walk.  It may well be argued that Nicholas has more sailing miles under his belt than many seasoned salty dogs. His love of sailing has taken him from sailing in Ottawa, to the Thousand Islands and Kingston to as far away as Auckland New Zealand where he worked as crew on one of the famous America's Cup boats.
Nicholas learned how to sail from his Dad on their family Shark, Optimist, Open Bic and CS30 sailboats.  As part of Nepean Sailing Club's junior club and high performance race team he further fine tuned his sailing & racing skills.  While at Queen's University Nicholas won Varsity Athlete of the week for his outstanding performance and victory in the Canadian Intercollegiate Sailing Association Fleet Racing National Championship.
Nick's students will all testify that after taking a course with him, you will not only learn how to sail, but you will also fall in love with the sport!  Nicholas teaches our Basic Cruising, Mileage Builder, Intermediate Cruising & Racing courses.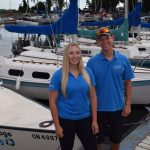 Sarah Parolin – Basic Cruising & Racing

Gregory Pilsworth – Basic Cruising
Instructor Gregory Pilsworth is a third generation sailor. His Dad learned how to sail at the Royal Canadian Yacht Club in Toronto.
At the age of 12, Greg was enrolled in sailing lessons at the Britannia Yacht Club. This is where he first met his friend, Ron Schute. Divergent career paths kept them apart for many years but in 2014, Ron asked Greg to join the instructor team at Advantage Boating.
Teaching with Advantage Boating, however, was not Greg's first foray into being an instructor. In order to help pay for university, he taught sailing at the Britannia Junior Club. In the process Greg acquired his Green, Blue and Red certifications with the Canadian Yachting Association and accumulated over 1000 hours of teaching experience.
Even when not teaching it was hard to shake the teaching role. On their first date, Greg found out that his future wife had taken sailing lessons. In order to evaluate her training, he asked her, partly seriously and partly with tongue-in-cheek, "Which way you faced when tacking a boat". The answer came back, phrased with a healthy dose of sailor's salt, that you, "Faced forward and would there be any more stupid sailing questions?!" Greg wisely concluded the evaluation.
Greg and his wife now sail their C&C 29, Magic, out of the Britannia Yacht Club. When not out with the family, he loves to teach others how to sail. He's a very patient instructor who reminds his students that there is really only one stupid sailing question and he's already asked it, so don't be shy!

Mike McEvoy – Basic & Intermediate Cruising & IYT
It's said the Canadian Navy likes to recruit sailors from the prairies. That's because the recruits are used to seeing featureless vistas and unending horizons. While the sea is rarely featureless its horizons can stretch as far as the eye can see and instructor Mike McEvoy is living proof that great sailors do come from the flat expanses of the west.
Mike grew up in Alberta and learned how to sail on a lake just west of Edmonton called Lac Ste. Anne.  His training began at the age of 6 under the tutelage of his Father. Mike remembers sailing a boat his Father built which came with brand new Egyptian cotton sails. An inevitable capsize started the cotton shrinking and this necessitated a rescue mission from his Father. The day eventually finished up standing beside a warm oven eating freshly baked bread at the local bakery. Warm memories after a cool dip.
Many years have passed since those early days in the bakery and Mike is now one of Canada's most accomplished instructors. So much so that in the spring, he helps train brand new basic cruising instructors on behalf of Sail Canada. In the summer and fall he can be found teaching Basic and Intermediate cruising to new recruits in Ottawa and Kingston and when the waters eventually freeze-up in Canada, he heads down south to teach and lead our big boat flotillas in the British Virgin Islands.
While we have no affiliation with the Canadian Navy we do share their philosophy that, when sailing, there really is no life like it. If you would like to expand your vistas and horizons, both north and south, then Mike would love to show you how.

Michael Thompson – Basic Cruising & Racing
Mike learnt to sail on the Ottawa River more than 20 years ago.  Sailing started as a weekend hobby but his passion for, and love of sailing continued to grow ever since that first time he stepped foot in a boat.  Mike regularly sails a wide variety of boats from single-handed dinghies to sport boats to cruisers.   His love of sailboats has no boundaries – he will sail almost anything that floats and has a sail.
Mike keeps his sailing skills sharp through his active involvement in the local Ottawa racing scene both as a sailor and as a race & regatta
organizer
.  He races twice a week in the 
BYC
/NSC 
inter-club
race series and is a past co-chair of the 
Nepean
One Design, the largest sailing regatta in the National Capital region.
Teaching new sailors and sharing his passion of sailing with others was just a natural next step for Mike's sailing life-style.

Jamie Foy – Basic Cruising & Racing

Stan Blakey – Basic Cruising
Stan got the sailing bug as a teenager sailing Hobie 16's on the Swan river in Perth Western Australia.  At the time, his only instructions were "the ferries won't stop for you".  
Arriving in Canada, Stan learned more about sailing through Sail Canada's dinghy & keelboat Learn-to-Sail programs with Advantage Boating.  Stan has been a member at the Nepean Sailing club for 25 years now, first owning a Tanzer 22 and currently owning a Mirage 25.  
When the Ottawa river freezes over Stan finds ways to sail where the temperatures are warmer.  Most recently he sailed in the British Virgin Islands with Advantage Boating's 2019 flotilla. Stan has sailed at various points along the west coast from San Diego to Vancouver Island including Santa Cruz, San Francisco Bay, and Puget Sound.  Other memorable sailing experiences include riding out a tropical storm in the Bahamas.  
While finding words to say why sailing is so satisfying seems impossible, Stan will tell you that any time he travels (on shore) and sees a boat sailing by, he yearns to be on that boat.  Take a course with Stan and you will see why!
Stan knew teaching sailing and becoming a Sail Canada Instructor was his next calling in life after being a skipper during Advantage Boating 2019 BVI flotilla.  It was there he realized just how much fun it is to help other people develop their love of sailing.

Art Pittman – Basic Cruising
Art's earliest memories of boating begin with his grandfather, a former dory fisherman from Newfoundland, who taught him how to tie knots and handle a small boat.  Art really became hooked on sailing however when his uncle took him for his first sail on Dow's lake in a 420 dinghy. Since then Art has sailed in waters across Canada.
It was in Kingston, teaching in dinghies at a sea cadet sailing camp where Art first combined his passion of sailing and love of teaching.  During that time Art sailed Petrols, Echos, Albacores, 420s, Flying Juniors, and Lasers. He also had an opportunity to serve as crew on the St. Lawrence II (a tall ship).  During his 4 years in Kingston and as part of a mobile sailing school that travelled throughout Eastern Ontario Art taught over a thousand youth and adults how to sail. He loved every minute of it.
Work relocated Art to Alberta, but he continued to sail when he could.  As Art's family grew, his interest in sailing also expanded taking him from dinghies to keelboats.  Art took his family on a "Learn to Cruise" vacation near the Gulf Islands on the West Coast and earned his Sail Canada Basic Cruising Skipper Certification.  After several moves around the country and sailing any type of boat he could step foot upon, Art finally landed at the Britannia Yacht Club in 2014 and has since enjoyed sailing Sharks through the Advantage Boating Sail Share program.
Missing teaching, Art decided to once again combine his passions for sailing and turning people onto the sailing lifestyle.  Art and has been part of the Advantage Boating Basic Cruising Instructor team since 2017. You can always spot Art around the club or on the water – just look for the fella with the biggest smile on his face surrounded by students harbouring the same expression!

Robin Cloutier – Basic Cruising
Curtis Dickinson – Basic Cruising & Racing
Curtis Dickinson, like the majority of our instructors, began sailing at a very young age. He may, however, have started the youngest of anyone. Curtis' parents say that their son's feet first touched the deck of their wooden Lightning at the age of one.
Even at a young age, Curtis seemed to enjoy the sport and his parents continued to nurture this interest as he grew. When Curtis was 4 and his brother was 6 their father fixed up a small sailing dinghy called a Signet for the boys. His parents enjoyed chasing the boys around on the water while sailing their Lightning.
Decades later, Curtis' love of sailing continues to flourish. He has raced countless types of boats, including Fireballs at a national level and he has raced around Vancouver Island. He has sailed on both coasts of Canada and earned his Yacht-Master Offshore ticket while sailing in New Zealand. His personal love of sailing has also extended into his professional life as when you sail with Curtis, you are also sailing with a Naval Architect.
Curtis is an absolutely exceptional sailor but with one little quirk. No matter how big or how small the boat, Curtis likes to sail barefoot. He tells us it's like having a third hand and when you see him grab a sheet with his toes for the first time, you'll understand why!
If you would like to talk to Curtis more about his personally developed, advanced sailing techniques, then he can be reached at info@advantageboating.ca

Adam Parolin – Basic Cruising & Racing
In 2019 Adam joined Advantage Boating as Sail Canada's youngest Learn-to-Cruise Instructor.   Don't let that fool you however because Adam has been sailing since he was just a few months old and could helm sailboats before he could even talk.  You could say sailing runs through his veins and he enjoys sailing any boat he can set foot upon.
Having started sailing on his family's keelboat, Adam was quickly drawn to fun he saw the kids were having at Nepean Sailing Club's dinghy program.  After a few summers sailing Open Bic's and 420's, it was a natural next step for Adam to join the NSC high performance race team where, for 3 years, he fine tuned his racing skills sailing on his Laser.  Adam loves racing sailboats (and the adrenaline flowing though his veins during a race), but he is no stranger to cruising and also enjoys the slower "cruising lifestyle" pace having cruised in Kingston, the British Virgin Islands and the Bahamas.    
During the summer, when Adam is not sailing sailing you'll find him on the rugby turf coaching & playing competitions at the local, provincial and national levels or kayaking down the Ottawa river in his whitewater kayak.  When the water freezes on the Ottawa river, Adam switches gears from coaching sailing to coaching competitive alpine ski racing in the Outaouais Ski Zone.  
Adam loves adventure and sharing his passion of sports on and off the water with others.   Taking a class with Adam you'll certainly become infected with a love of outdoor activities and hooked on sailing!

Emma Heller – CANSail, Basic Cruising & Racing
Growing up in a sailing family, Emma learned how to sail before she could walk. She first learned how to sail on an Optimist and from then on, she was hooked! Emma continued to develop her passion and skill for sailing while onboard numerous boats, including 420s, 29ers, C&Cs and J24s.
Emma quickly discovered a competitive side to her and found a new love of racing. She races dinghies and keelboats at a local, provincial and national level.
Her latest sailing adventure brought her to the British Virgin Islands where she chartered a sailboat. Not wanting to return home from this trip, Emma started to plan her future sailing adventures, which she hopes will take her around the world.
After being party to so many amazing sailing instructors, Emma decided to make the move to instructor with hopes of being able to instil her passion for sailing in others. Not being able to get enough of sailing, she works as Head Instructor at Nepean Sailing Club during the weekdays and her evenings and weekends are spent teaching with Advantage Boating. Emma will be teaching CanSail 1 and 2 as well as Basic Cruising this summer.
In her spare time, she can be found out on the Ottawa River racing her J24, Warrior.

Camden Sutherland – CANSail & Basic Cruising & Racing

Raymond Gouin – Basic Cruising
Raymond 'Marin' Gouin's first pleasure craft was not a rubber ducky, but sailing at the beach on an air mattress at the age of 5 months old. He summered often in the New-Brunswick Acadian peninsula, where he inherited the love of the sea from his Acadian family.
Raymond was introduced to sailing when he joined the Canadian Navy in 1973 as a Naval Officer. He later reclassified as a Sea King Helicopter Air Navigator. His last tour of duty was as an Air Navigation Instructor in 1993. During his 21 years in the Canadian Forces Raymond accumulated 10 years of Sea time and 10 years of Air time.
Upon retiring from his military career, Raymond decided to combine his passion for the sea & his love of teaching.  Raymond recently started transferring his professional knowledge and experience, to the sailing world by becoming a Basic Cruising Instructor.
Raymond looks forward to sharing his passion of the open water and starry skies. As he puts it, "I am the one who wakes up in the morning to share experiences over, on, in and under-water."   As you learn the ropes sailing with Raymond, your course will be well seasoned with salty tales of dark and stormy nights in the North-Atlantic.
Shawn Batten – Basic Cruising & Racing
Radek Skabas – Basic Cruising

Jon Wright – Basic Cruising & Powerboat
All it took was one weekend. One weekend in an aluminum boat with, "Alcan" stamped on the transom. One weekend with the Sea Cadets, far removed from the sea, on the Mississippi River near Carleton Place.
That's when instructor Jon Wright knew he was hooked on sailing. Next he navigated his way to Dow's Lake in Ottawa where he started sailing Albacores and he was hooked again… literally! In a gusty moment the boom of another student's boat hooked on Jon's life-jacket and lifted him out of his boat only to be released by being unceremoniously dunked in Dow's Lake.
This dunking in questionable waters may have dampened the enthusiasm of other students, but not Jon's. He continued to improve his skills to the point where he became a Head Youth Instructor with the Canadian Yachting Association. That was over 25 years ago and he's been teaching youth and adults ever since.
Jon is an exceptional teacher with a healthy dose of humility. He remembers one day, early in his teaching career, when an animated discussion diverted his attention and both teacher and students suddenly found themselves aground. The day's immediate lesson plan was hastily thrown overboard in favour of a new lesson on how to remove yourself from a slightly embarrassing, but never forgotten, grounding.
If you've ever been curious about sailing, then we're confident, all we'll need is one weekend with Jon and you'll be hooked forever. Not by the lifejacket though!
Eric Calvert – Coastal Navigation
Eric Calvert is an exceptional teacher who can help you navigate the waters to becoming an accomplished sailor. Professionally, Eric is a teacher and a writer and we like to say that he wrote the book on coastal navigation… literally! The industry recognized book we use for coastal navigation, both in the classroom and online, was written and co-authored by Eric.
The first pages of Eric's personal story can be traced back to the early days of sailing with his Father in a reliable little boat called a Sunfish. Eric's Father was an excellent instructor, but being self taught, he never learned nautical terminology. Consequently, Eric and his Dad had only two names for anything on a boat; "This thing" and, "That thing"!
Eric eventually outgrew the little Sunfish and he bought a much bigger fish, a boat called a Shark. A new wife agreed to sign on as crew but only under the condition that Eric expand his nautical vocabulary beyond his Father's very economical 2 phrase terminology. Being a smart skipper, Eric took his wife's suggestion to heart and he went back to school.
Eric's vocabulary has expanded considerably since then, so much so, that now he teaches for the same company that first taught him, over 20 years ago. Eric loves to share in his passion for sailing, much like his Father did. If you've ever been curious about navigating through waters where you've never been before then Eric can teach you how.
To learn more about nautical and navigational "Things", contact Eric directly through Advantage Boating at info@advantageboating.com
Mike Green – Celestial Navigation
Dave Nickerson – Basic Coastal Navigation
Bert DeVry – VHF, Engine, Coastal Cruising