We offer year-round instruction in a number of subjects. As with our on-the-water program, many of our classroom courses follow the Standards of Sail Canada.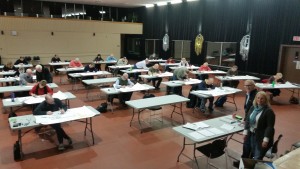 The following courses are available:
Basic Coastal Navigation Coastal Navigation gives students the practical knowledge, skills and instruments to navigate a vessel in coastal waters.
Basic Coastal Navigation – on line A hybrid home study and on-line format course designed to walk you through and practice all skills necessary to achieve the Coastal Navigation standard from the comfort of home.
Celestial Navigation You will learn the theory of celestial navigation required to safely navigate a vessel offshore.
VHF Certificate Learn how to communicate to handle emergency situations using a VHF marine Radio. This short course will cover all aspects of radio operation.
DSC Upgrade This course is for those who already have their VHF operator's certificate but would like to upgrade it to include the new DSC technology.
Intro to Racing A series of seminars presented by well-rounded local racers, some of which have won world championships in the Shark fleet.
Diesel Engine Everything you ever wanted to know about diesel engines, presented by a master mariner, who happens to be BYC's Harbour Master as well.
Outboard Engine Trouble shoot, diagnose, and maintain your outboard motor. Presented by very knowledgeable instructors, you have questions, we have the answers!