This program places emphasis on practical training in a live aboard format. This course is highly recommended for people who are interested in chartering or owning a boat. Gain valuable experience while cruising to a different destination and enjoy a different anchorage each night. Continue to improve your sailing skills in a vacation-like setting!
OBJECTIVE: To be able to cruise safely in familiar waters as both skipper and crew of a sailing yacht of 8 – 12 meters in moderate wind and sea conditions by day.  Emphasizes on-the-water skills at a level required for bareboat chartering.
Our Kingston Intermediate course is taught aboard our spacious and comfortable CS 30 sailboat "Nancy O" (layout diagram & profile diagram)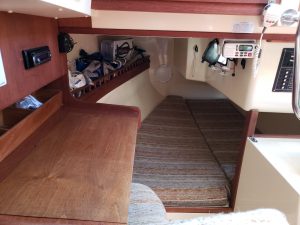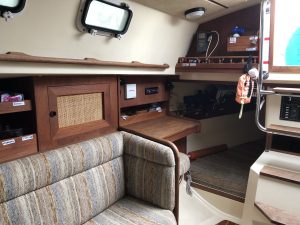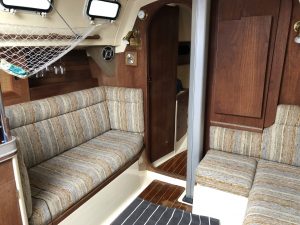 PREREQUISITE: Sail Canada Basic Cruising Standard or equivalent certification,  VHF Certificate, and Sail Canada Basic Coastal Navigation. First Aid / CPR are strongly recommended, Physical Requirements
OPTIONS:
Kingston one week – 6-day / 5-night continuous live-aboard cruise in the Kingston/Thousand Islands area.
Kingston weekend challenge – A Weekend Intensive Intermediate Cruising Challenge in the Kingston/Thousand Islands area.
**If you already have extensive live-aboard sailing experience but would like to attain certification to back-up your experience then the intensive weekend Intermediate Cruising challenge is the format for you**
Caribbean – Seven days in the Caribbean during the winter months.
FEE 
6 day / 5 night Live Aboard – $1249 + HST  (includes textbook)
Weekend Challenge – $775 + HST (please contact the office at 613-721-8683 to arrange)
Caribbean Location – Fee varies depending on Caribbean location (Visit our Sailing Vacation for up to date information).
NOTE: Our Kingston courses requires a minimum of three students to run (3 single sailors, 2 couples or 1 couple & 2 single).  Provisions not included
NOTE:  Basic Cruising and Intermediate Cruising courses have very different performance objectives.  So that students get the most out of their live aboard courses, we do not mix Basic Cruising students with Intermediate cruising students on one course session.  We can, however set up individualized courses, on request, to accommodate friends, families or partners who are looking sail together and are working on different certification levels.
ADD ON: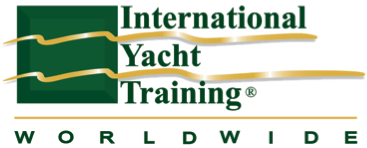 IYT ICC and Bareboat certifications can be added on to your intermediate cruising course.   IYT learning materials will be provided before your course.  The afloat assessment will be conducted during your intermediate course however an additional written test will be required.  *Additional costs apply.

CERTIFICATION(S) AWARDED: Sail Canada Intermediate Cruising (Skipper) Standard or Sail Canada Intermediate Cruising (Crew) Standard.  Optional: IYT ICC & International Bareboat Skipper certifications.
NEXT STEPS: Sail Share, Flotilla Getaways, Learn to Sail Program, VHF Radio, Sail Canada Intermediate Coastal Navigation, Sail Canada Celestial Navigation, Sail Canada Advanced Cruising.